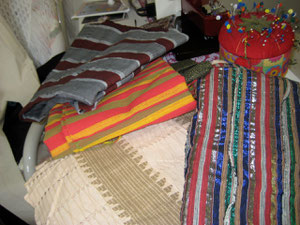 I like to believe that what keeps me so motivated in my mere 2 patterned, 3 sizes profession is ideas...always looking around the corner for new, fresh even crazy choices for the bags.
The Gothic look came totally from an email enquiry.  "Can you make a bag with skull fabric," it read, "blacks are best, but please NO pink or heart shaped eye sockets."  Classic.  And so my knowledge of Gothic tastes budded.
Uni & college students prefer corduroy, which confuses me, because, for the most part, they don't make a point of wearing it.  A good sturdy accessory look I suppose, which is terrific for me.  Fabricated in loads of colours, weights, wide, medium, thin & pin size wales, I love the assortments available to make my inventory so impressive!
Colours alone will sell a bag.  Always have a red bag on hand.  Emotional prints stand out too.  Dogs, cats ("Oh look, she'll love this one, it has dogs on it!  Is there a beagle on there?"), the unmistakable Pink Ribbon, I love to offer what makes folks feel good.
And then once in a while, something so unusual, so compelling will come along, that I tease myself for awhile with ideas, I let it simmer in the thought pot.  My newest escapade.  I'm 007 pensively stirring the martini, waiting for the elusive.
Her name is Jumoke (don't you love that name!)  Rich dark African skin, beautiful enriching smile & enthusiasm that is infectious.  She sews the tradional clothing of her home country Nigeria, & some house accessories, along with beautiful beading.  I met her at a networking meeting & immediately took a notion to her because, at the risk of sounding smug, Jumoke seems to be alot of me.  Her business started out exactly like mine, & has grown at a similar rate.  And she loves fabric, a fellow fabric junky!
She invited me to her home to show me her fabrics & handiwork.  Every year she returns to Africa for 2 months in the winter & while there purchases & orders handwoven fabric pieces from women in the markets.  Imagine! To me, a vision from an exotic book!  Open markets alive with activity; women crouched at their wares squinting in the warm sun, folding, hanging the wares, guiding the spools within small & simple looms, back & forth, back & forth.   Slabs...lengths of incredible weaves, substantial weights, fabulous colours.  All made with 2 hands.  
On the back side of the pieces, there are tiny seams about every 6 inches running the length.  The looms, Jumoke explains, are quite often only that wide, & long runners are made, then sewn together.  So finely done, it isn't even apparent from the right side.
 While she is showing me different fabrics, Jumoke is easily folding, & wrapping this piece around her waist to fit a skirt, a lighter weight piece magically swirls around her head into a headdress.  So lovely, so beautiful!  I was agog to say the least.  These fabrics start out as easy rectangles & with a wrap & a tuck, become elegant, graceful, comfortable garments.  The colours are so enthralling, all seemed to reflect the earth.  Rich greys & browns, jewelled purples & reds.  The energy is palitable.
 I bought 5 pieces.  At the moment they are relaxing in my sewing room, paired with  soft toned co-ordinating, so carefully chosen cotton fabrics.   I like to think these fabulous rich threads will patiently guide me, lead me through a mystical adventure. These weaves made from the skillful hands of a woman half a world away, into an enchanting experience for me.
Examples of past, handwoven fabric bags.