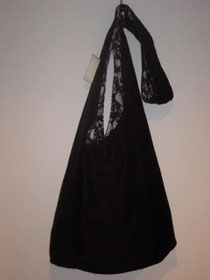 The loley black bag.  So safe, sopractical.  So boring.
I always make a conscious effort to have a good assortment of black.  It's a colour that sells well.  Many, many customers decide before they come to pick out their bag that black hides dirt, so for that reason alone, it's a sensible choice...a total given.  At least, that's what they tell me.
I don't see it, but who am I to contradict a customer?  I think black can stylish, & seeing a solid black bag on some women, younger or older, it does fit the bill.  On the other hand, after seeing a solid black bag on, it can look heavy & cumbersome so a customer has to be careful.  And... most importantly...it DOESN'T hide dirt as well as you think.  If a black bag was to ride in my car it would immediately take on the look of mohair thanks to Molly, my wonderful, but constantly shedding Golden Retriever.   The term DIRT spans a wide variety of ecological residues, none of which I can think of would become invisible on basic black.  Black soot would, on 2nd thought.  I would definately recommend a black bag to a chimney sweep.  If Burt from Mary Poppins wants a bag, Burt gets black.  
In defense of the Basic Black Bag, I will say that there isn't another colour that is as schizo as black. (That's a positive term in fabric dialogue)  It is all pleasure for me to pick out the countless array of co-ordinating fabrics for the liner.  Just about anything goes colour wise, but better yet, I can offer a distinct character to a bag simply by the choice of pattern or the angle of the pattern or fabric & place it with solid black.   Delicate florals to laughing skulls...it all goes with black.  Everything goes with black.  Or so they say.
For those who are set on black I like to offer varients.  A set in stripe here, another suruprise elements there, defined texture.  These examples of past bags will give you an idea of how to have a black bag without it being boring.  Hope you like them...I know I do.